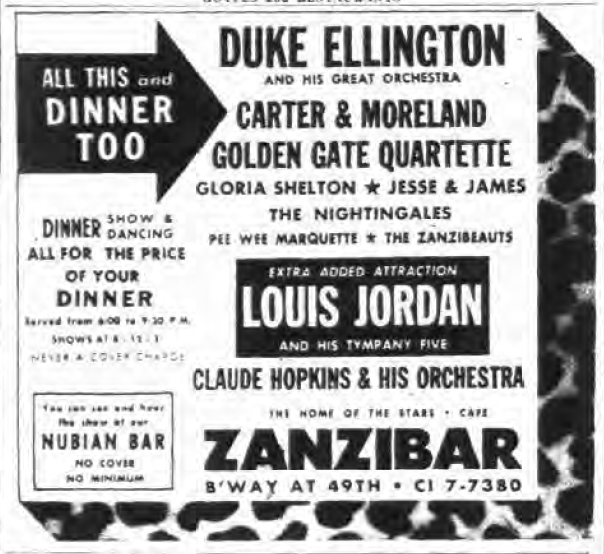 Stompy Jones
During the years of the Petrillo recording ban, 1942-1944, there were of course very few studio recordings by Duke Ellington and his orchestra, but fortunately for us, he and the band had long periods of engagement at the Hurricane Restaurant in NYC, from which  fans were able to listen to broadcasts almost daily. This was the case also after the recording ban had been lifted. In 1943 the band played for nearly 6 months at the Hurricane and in 1944 for for about 9 weeks. A great many of these broadcasts have been issued on records in later years, many of them in the great DETS series. In 1945 Ellington and his orchestra returned to the Hurricane, which now had changed its name and ownership and was now appearing under the name Zanzibar. Some of the broadcasts from Zanzibar have also been issued, among others in the DETS series. The broadcast which we are about to offer our members for listening, however, has never (as far as known) been issued on any record.  The Ellington tenure at the Zanzibar began on Sept. 11 and lasted till Dec.4, when he was replaced by Cootie Williams and his orchestra. At the outset there was an argument about top billing between Ellington and Louis Jordan but this was solved in a couple of days with Jordan accepting being an "extra added attraction". It must be pointed out that the sound quality from this NBC broadcast on Oct. 29 is not top class, and this may perhaps be the reason it never was issued, but nevertheless we believe our members will find it interesting.
At this point in time the orchestra personell was as follows: Shelton Hemphill, Rex Stewart, Taft Jordan, Cat Anderson on trumpets, Lawrence Brown, Joe Nanton, Claude Jones on trombones, Jimmy Hamilton, Johnny Hodges, Otto Hardwicke, Al Sears, Harry Carney on reeds, Ellington, Fred Guy, Junior Raglin and Sonny Greer in the rhythm section. The program consists of the following numbers:
1. Take The A Train (intro)
2. Stompy Jones (solos by Brown, Hamilton, Jordan, Carney, Anderson)
3. I'll Do It All Over Again  (Carney, Hamilton)
4. A Door Will Open (Hemphill)
5. It Don't Mean A Thing  (Jordan, Sears, Nanton)
6. Frantic Fantasy (Stewart)
7. Blue Skies  (Hamilton, Anderson, Hodges)
8. Everything But You (n.c)
We hope you'll enjoy this rare broadcast, you'll find it in the Goodies Room. If anyone has a better copy, we would not hesitate to upload once more.